Recommendations
Dear K-9 Club Members!
Winter is quickly approaching, and we want to make sure that all of our four-legged friends are protected against the elements!!!
Please remember to leave out all raincoats and winter outerwear so that it is easy for the dog-walker to find when they come to pick up your dog. Sweaters are not suitable for rainy or snowy days!! Please make sure you leave a towel out so that we can dry your dog after the walk.
For those who don't already have the appropriate outerwear, or for those who would like to upgrade, we have included the following recommendations and links for you to choose what is best for your dog below.
Please remember that these are two-hour walks, and these garments are an absolute necessity for all small and short-haired dogs. As for dogs with medium-length coats, these garments would be beneficial in keeping your dog warm and dry. For dogs with thick coats, these garments are optional but highly recommended in order to keep your dog cleaner and more comfortable in wet weather.
We do not sell any of these items. Similar items certainly will work well. The most important thing besides being waterproof and lined is that your dog's coat stays on day after day.
Coats secured only with Velcro are not recommended because once Velcro gets wet, it will no longer function properly, and the coat will keep falling off. All jackets and coats should have buttons or hooks.
Hoods look cute but don't stay on, and the hood will blow in other dog's faces, which annoys them. The head is not an area of the body that you have to be concerned about your dog getting cold.
Sweaters by themselves are not good for wet weather but are fine if a waterproof coat goes over it.
Your dog will be able to eliminate as he or she normally does wearing a full bodysuit.
Waterproof Bodysuit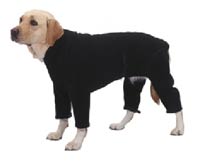 Covers the entire body, including underbelly, as well as being lined and waterproof.
*For short and medium-length haired dogs and all small dogs regardless of hair length!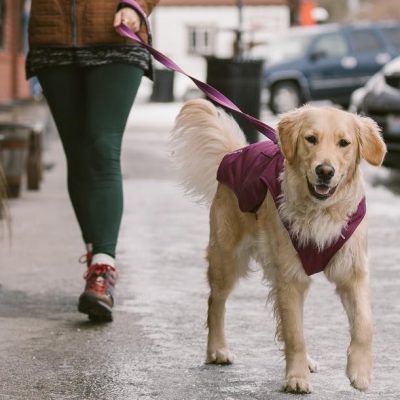 Ruffwear makes the most comfortable and well-made quality dog coats that we are aware of for our two-hour group walks.
They have a selection of coats for various weather conditions. We always recommend waterproof lined coats for cold and inclement weather and a lighter unlined coat for warm or hot wet weather.
Finally, we would like to address the paws. Boots are recommended when salt is on the streets. It is important to keep the paws moisturized as this will help prevent them from cracking. Salt only burns when their pads are cracked. We recommend using Musher's Secret, which can be found in most pet shops in the city. You, the owner, should put it on before taking your dog for a walk. Do not put it on and leave your dog unattended as they like to lick it off. Though not dangerous to your dog's health, it will defeat the purpose of applying it.

We recommend the Waterproof Dog Rain & Snow Boots. They have a zipper that secures them on the paw as well as a Velcro strap. These boots stay on very well.) Boots that don't have a zipper come off easily when they are walking and get easily lost when they walk in snow that is higher than the boot.

For extra-large size dogs, we recommend the High Toppers. Although they don't have a zipper, they have a drawstring, and the Velcro is pretty high off the ground. Though it's a new product, the owner of assured me they will stay on as long as proper measurements are taken, and the correct size boots are ordered. They have a size chart on their website.
* Some dogs will not allow us to put boots on them, but we will try our best. If they don't, often they will let us apply Musher's Secret, which will protect somewhat against salt burn. If a dog is showing signs of salt burn, we dip their paw in the snow to wash away the salt.
Cooling Dog Coats Used By Military Dogs In Hot Weather Now Available For Civilian Dogs!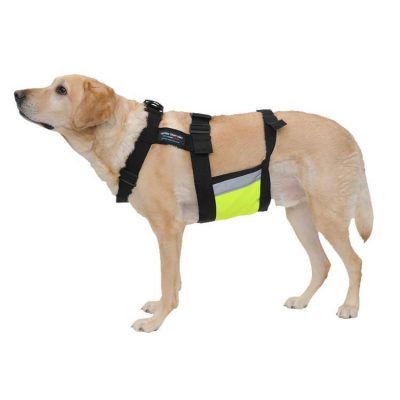 I have recently been made aware of a cooling dog coat that I believe will be of great benefit for our 2-hour walks in hot and humid weather. These coats should really help keep your dog much more comfortable and cool. They are used by military dogs in Iraq and Afghanistan, where it can get incredibly hot, and the dogs need to work for hours. They come with 1-3 Cool Pax™ (quantity of inserts are based on the coat size) that need to be refrigerated and then put in the coat pockets. The Cool Pax™ would have to be taken out of your fridge right before the walk by the walkers and will keep your dog cool for 2-3 hours. When the walkers bring your dog home, they can take it off and put the Cool Pax™ back in your fridge.
The cooling chemical Phase Change Material, or PCM, is non-toxic and freezes at 58F and stays at that temperature for 2-3 hours. It works by absorbing heat away from the body. It is not a cold vest; it is a cool vest and is designed to keep the user cool and comfortable, not cold. You can keep a PCM cooling insert pressed against your skin, and there is no discomfort. There is no ice burn, condensation, or fluctuating temperatures with PCM like you would have with an ice vest. PCM is not water-based, it is a carbon-based liquid, and it is 30% lighter than water.
Please click on the link below to find out more about the cooling coat.